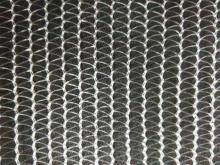 Introducing BLRS Net, a high-quality product designed for use in the bottom layer of rack structures in raisin production. This net is specifically engineered to collect raisins after drying and prevent direct contact with the ground.

BLRS Net is a perfect combination of strength and durability, providing optimum performance in the collection of raisins with minimal moisture retention. The net is manufactured using HDPE monofilament and constructed with raschel warp knitting, ensuring its long-lasting and durable nature.

One of the key benefits of BLRS Net is its lightweight design, which makes it easy to handle and install. Additionally, the net boasts high load bearing capacity, ensuring that it can withstand heavy loads without damage.

BLRS Net comes in two standard lengths of 46m and 50m, with widths of 1.5m and 1.8m. It is available in natural white color and is UV stabilized to provide protection from the sun's harmful rays.

Customization of BLRS Net is available upon demand, ensuring that it meets specific customer needs.