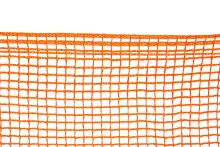 GTFL offers knitted fencing nets made from high-quality UV-stabilized virgin HDPE. These fencing nets act as excellent barriers, preventing both small and large animals from entering farms and gardens. The lightweight and high-strength construction of the nets allows for visibility and ventilation, making it an ideal solution for general fencing needs.

The fencing nets offer many benefits, including high durability and long UV life. They are also easy and safe to install, with faster installation times compared to other fencing options.

The fencing nets come in various specifications, with customization options available upon request. They are available in widths up to 6.2 meters without joints, and any width with joints. The fencing nets are offered in black, green, and orange, with lengths tailored to meet customer requirements. Choose GTFL knitted fencing nets for an effective and efficient fencing solution.