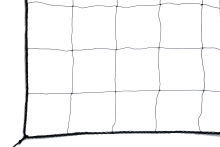 Introducing Crop Support Nets, the ideal solution for providing support to different climbing crops. This product facilitates the production of healthy fruits and vegetables, while also making the picking and collection process quick and efficient.

Crafted from high-density polyethylene monofilament, this net is exceptionally lightweight, making it easy to install and flexible. Designed for all kinds of climbing crops, the Crop Support Net boasts a range of features and benefits that make it an essential tool for farmers across India.

One of the standout benefits of this net is that it provides proper air ventilation and light to the plants. This is crucial for ensuring that crops grow healthily and in optimal conditions. Additionally, the Crop Support Net is available in a range of twine sizes (15 ply, 24 ply, 30 ply, and 36 ply), and mesh sizes (150 mm and 200 mm), making it a versatile option for a variety of farming needs.

The Crop Support Net comes in standard widths of 1.5 meters and 2 meters, with standard lengths of 30 meters and 50 meters. The net is also UV stabilized, which ensures that it will withstand the harsh Indian sun without deteriorating or losing its strength.

For added convenience, the Crop Support Net can be customized with a border rope to suit specific needs. This makes it an adaptable and versatile solution for any farm.
Introducing GTFL Crop Support Nets - the ideal solution for providing customized support to a wide range of crops. With specially designed mesh sizes, these nets offer the perfect balance of dimensional stability and high strength to provide optimal support for plants to grow vertically and reduce sagging due to weight of fruits and leaves.

Applications include vegetable cultivation for crops such as cucurbits and gourds. The variety of meshes available allows for customized support for the right crops or flowers, resulting in higher yields due to less damage to fruits and support to the plants.

GTFL Crop Support Nets are made of high-quality HDPE monofilament in a sleek black color, and are UV stabilized for long-lasting durability. Customization options are also available, including border rope.

Choose GTFL Crop Support Nets for reliable and effective support for your crops. Available worldwide in Americas, Europe, Africa, Australia, and Rest of the world.