24 Oct, 2022
Garware Technical Fibres Second Quarter 2023 Earnings: EPS: ₹23.17 (vs ₹19.83 in 2Q 2022)
Garware Technical Fibres (NSE:GARFIBRES) Second Quarter 2023 Results
Key Financial Results
Revenue: ₹3.56b (up 26% from 2Q 2022).
Net income: ₹477.7m (up 17% from 2Q 2022).
Profit margin: 13% (down from 14% in 2Q 2022).

The decrease in margin was driven by higher expenses.

EPS: ₹23.17 (up from ₹19.83 in 2Q 2022).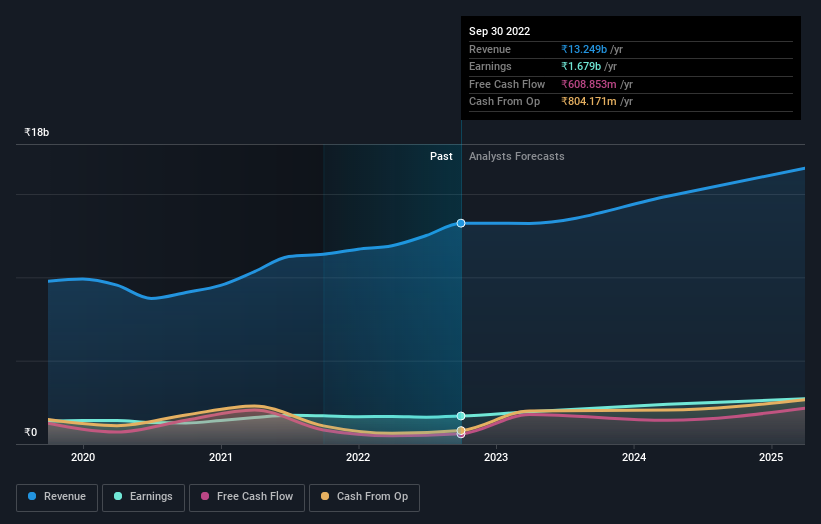 NSEI:GARFIBRES Earnings and Revenue Growth October 24th 2022
All figures shown in the chart above are for the trailing 12 month (TTM) period
Garware Technical Fibres Earnings Insights
Looking ahead, revenue is forecast to grow 10% p.a. on average during the next 3 years, compared to a 14% growth forecast for the Luxury industry in India.
Performance of the Indian Luxury industry.
The company's share price is broadly unchanged from a week ago.
Balance Sheet Analysis
Just as investors must consider earnings, it is also important to take into account the strength of a company's balance sheet. See our latest analysis on Garware Technical Fibres' balance sheet health.