07 Jun, 2022
In an interaction with Shujaul Rehman, CEO, Garware Technical Fibres Limited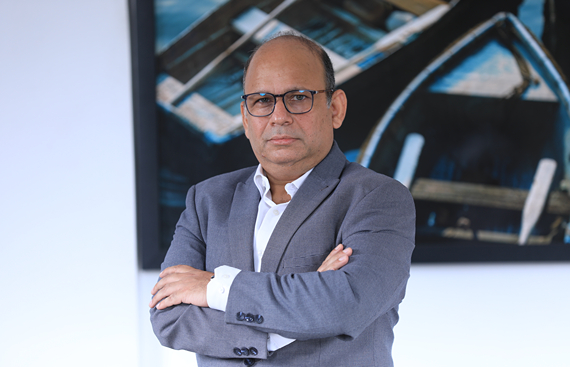 We have been able to launch new products and businesses where we have a common core anchor, which may be technology, application understanding, or key customer & distribution base; emphasizes Shujaul Rehman, CEO, Garware Technical Fibres Limited
For FY22, Garware Technical Fibres delivered a strong 9 per cent (approx.) growth in operating EBITDA. What factors have contributed the most to help record such significant outperformance?
The stellar performance of the international business has been one of the key factors for the above. Continued double-digit growth with a strong performance in aquaculture cages and sports sectors were some of the key contributors. All other parts of the international business performed well despite the issues of global supply chain disruption, container availability, and high ocean freight costs. In spite of inflationary headwinds, we have been able to pass on most of its impact. This is possible for us since almost 70 per cent of our sales come from value-added products, which give direct business benefits to the end customer. Our strength of the brand coupled with trust & quality has also helped in achieving these results. 
  
Can you shed some light on the new product development and patents added to your intellectual-property basket during FY22?
GTFL business activities fall under what is known as the technical textile industry. Within this, we are more focussed on agro-tech, sport-tech, and geo-tech. Across our businesses, one area that takes a lot of our mindshare is innovation. Relentless customer focus coupled with a thorough understanding of each business application is our mantra and every day of every week, our teams are spending an enormous amount of time & energy on the same. Today, as we speak, we have 23 patents granted & dozens more in the pipeline. Thus, today, having captured a significant market share in key aquaculture markets, GTFL is known as a pioneer in high-density polyethylene (HDPE) aquaculture solutions for the aquaculture industry.
Similarly, in the agriculture industry in the area of protected cultivation, GTFL's patented V5 Shade net solution gives farmers a uniform shade factor thereby, positively impacting the quality of products and increasing the overall yield. Thus, you can see that by properly understanding the application as well as customer pain points & through continuous innovations, we are able to stay ahead of the curve and differentiate our products from the rest.    

  
With inflation leading to a rise in input costs along with supply chain challenges, what cost optimisation measures are you implementing to safeguard profit margins?  
  
It is true that in the last few quarters, we have seen a significant increase in the input costs. Coupled with supply chain challenges, most industries have faced a headwind thereby, impacting the overall growth and profitability. Luckily for us in most segments, we have been able to pass most of this increase albeit sometimes with a lag. It is possible for us to do so since our products & solutions provide a strong value proposition to the customers and they see the benefit these products bring to their business and as such continue to buy these specialised solutions. The other advantage that we have is that most of our machinery is flexible and modular. Hence, we are able to ramp up much faster if we see an uptick in demand and at the same time, we are able to switch over between products at a relatively faster pace. This helps in maximising the opportunity.   
  
What are the key growth triggers for Garware Technical Fibres over the next 3-5 years?  
Our strategy for growth is based on a few key pillars:  
Value addition through innovation – In some cases, we may even cannibalise our own products but as long as we are adding value to our customers, we believe that this is the right thing to do.  
Geographic expansion and market share gain – We still have headroom to grow in many geographies around the world in our various application areas and we continue to focus on market share & penetration.  
Allied products and new businesses – We have been able to launch new products and businesses where we have a common core anchor, which may be technology, application understanding, or key customer & distribution base. Our agriculture business is one such example. 
In organic opportunities – Fortunately, we are a debt-free company with a good cash reserve, and therefore, we continue to actively seek good inorganic growth opportunities that are strategically a good fit and fall within our internally-defined parameters. This can be a slow process, especially during the last two years of COVID times. 
 
At the moment, what are your top three strategic priorities?  
GTFL is a major player in India's technical textile business, focussing on the agri-tech, sport-tech, and geo-tech segments. For the fiscal year 2021-22, the company's total revenue was Rs 1,189 crore. GTFL presently serves customers in over 75 countries with international markets accounting for around 55-60 per cent of our revenue. We have made great progress in all our major market categories at GTFL, both internationally and in India, by delivering new & innovative solutions that have been well appreciated by clients. Finally, we want to be known as a leader in all of the major segments in which we operate and we believe that focussing on innovation, quality & talent will help us achieve this in our key areas of focus, which are aquaculture, sports & geosynthetics.  
  
What is your earnings outlook for FY23?  
As a policy, we do not give any forward-looking outlook. Having said, we feel that the current trend of growth will continue and GTFL is working even much harder to serve as well as grow its customer base in over 75 countries and provide them with innovative value-adding solutions that help address their challenges.